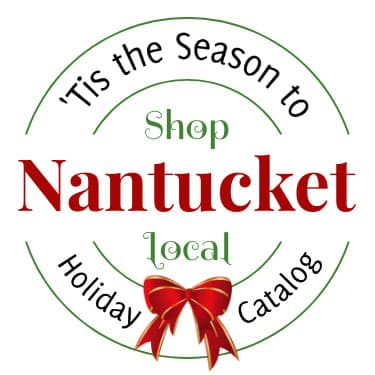 At our Insider's Guide to Nantucket 2022 Holiday Catalog you can find a variety of clothing, accessories, food, books, and gift cards that you can order and have shipped to your home in time for Christmas, Hanukkah, and all the winter holidays. Whether you are looking for stocking gifts, holiday party gifts, or presents for under the tree, there is something here for everyone on your list from your favorite shops on Nantucket Island. Check back frequently: new items are being added every week through the holidays.
Put fun in the Christmas Stockings this holiday season, with a gift card from Nantucket's Brotherhood of Thieves. Act now and get a little something for yourself to toast with your friends: buy $100 gift card & get $25 free. Order online & you can mail the card, email the gift card, or send it via text.
The Nantucket Chocolate Chip Cookie Basket and our fresh-baked Holiday Cookie Decorating Kits are just two of the many treats ready to ship from our seaside bakery, the Nantucket Cookie Company now in our 14th year. Order online at nantucketcookie.net to have these gifts shipped anywhere in the US.
Offering authentic American-made jewelry from quality pearls at affordable prices for American women. Making unique jewelry from hand-picked pearls, stones, leather, crystals and glass interspersed with turquoise, sapphire or diamond to set off the soft reflection of the pearl.
Our beautifully handcrafted pillows are the perfect holiday gift for the Nantucket lover! Handmade with meticulous attention to detail in Massachusetts, these pillows are crafted from high-quality materials and adornments. Shop online or stop by our shop on Federal Street in the town! We also have similar pillows for everyday use with Nantucket themes.
Gifts reflecting the history, crafts, and natural beauty of Nantucket Island
100% of all purchases support the Nantucket Historical Assn & its mission to preserve and interpret the history of Nantucket through programs, collections, & properties to share the island's significance and foster appreciation of it.
Our partners travel far & wide to bring Nantucket the best wine &. For clothing, we focus on the 60s and 70s, but carry fabulous pieces from a range of decades. For wine, we have everything from "fun" to "fine" and always aim for wines that drink well above their price.
Choose your favorites from Aunt Leah's many flavors to create a tasty gift box for the holidays. And don't forget to add some of Aunt Leah's Chocolate Covered Cranberries to sweeten the gift.
Inspired by nature & made by hand, the one-of-a-kid designs you'll find at Icarus + Co's Nantucket shop & website will put a smile on the face of everyone on your list. 
A gift card from Dune is the perfect stocking gift for the holiday season.  Keep your friends & loved ones looking forward to fine dining on Nantucket, and perhaps they'll invite you to join them at Dune!
Now open year round! Happy Holidays from Pageo Jewelers, your local family owned jeweler, on Nantucket for over 25 years! Come visit us over the Holiday and all Winter long for your jewelry and custom work needs! Join us Stroll Weekend and enjoy light bites & libations.
The 23rd annual polymer Christmas Ornament by island scrimshaw artist Michael Vienneau is available exclusively at the Scrimshander Gallery, 38 Centre Street, Nantucket MA 02554.
Price $30 plus tax, boxed.
To order visit or call
508-228-1004
scrimshandergallery@yahoo.com
With 18 karat gold and other metals, Susan Lister Locke incorporates patterns and designs found in nature and pairs them with vibrant gemstones. This designer's rings, earrings, necklaces, bangles, and cufflinks make wonderful holiday gifts.
Nantucket Monogram proves time and again that anything can be customized to make the perfect gift and anyone can be shopped for! Shop Nantucket Monogram online: nantucketmonogram.com; call us: 203-594-6067; arrange a Zoom or FaceTime appointment; or come into the store: 8 Elm St., New Canaan, CT. Our holiday hours are daily from 10am-5pm. 
Your favorite Nantucket shop is now also offering our beautifully curated clothing, accessories, & toys for children online! Buying clothes for kids online can be tricky, but our expert staff knows how each & every brand fits and can talk you through anything. Always feel free to call with questions or for gift ideas: 508-228-1238. If you are on Nantucket, please stop by 32 Centre Street to see our complete collection.
The Children's House Christmas Tree Collection Program is an annual fundraiser that helps the school raise money while providing a service that contributes to our community.