FAQ - What to Expect When Visiting Nantucket
Below are common questions from visitors to Nantucket Island and answers as of 2023.
If you do not see your question on this FAQ page, please send an email to us at info@nantucket.net –> PLEASE NOTE: questions on where to find housing on Nantucket will NOT be answered by our staff. If you are looking for short-term accommodations (2-weeks or less), please visit our LODGING PAGES.  If you are looking for long-term housing (longer than 2 weeks), we suggest you contact one of the real estate offices on Nantucket.
This FAQ page was last updated on JANUARY 2023.
As of 2023, wearing of face-coverings is being left up to the passengers.  Any passengers who deem it prudent to wear face-coverings while riding the ferries to Nantucket must bring their own, as the ferry lines do not supply them to passengers.
Two of the three ships in the Boston Tea Party were Nantucket ships. In the 1700s & 1800s, Nantucket was the whaling capitol of the world.  In the 1900s, Nantucket became a famous summer resort. Now Nantucket Island is famous for Daffodil Festival, Nantucket Wine & Food Festival, Nantucket Film Festival, Nantucket Comedy Festival, Cranberry Festival, and Christmas Stroll.
Yes, car rental agencies are currently offering rentals. Book in advance online because some currently have limited inventory. Car rental agencies
Yes, the Nantucket Regional Transit Authority (NRTA) buses operate year-round, but their schedules do change depending on the season. Their website: NRTAWave.com has the most up-to-date information. Taxi service and ride share services are also available on Nantucket.
There are no fees to access island beaches by foot, nearly all of Nantucket's 110-mile coastline is free and open to the public. Some beaches are part of private property, and there is a fee to drive onto beaches. Beach permits for cars are purchased from the Town of Nantucket and permits to drive onto the Coskata-Coatue Wildlife Refuge are available from the Trustees of Reservations
Yes, there are several options for public bathrooms in downtown Nantucket. Visitors Services at 25 Federal Street has men's and women's bathrooms (access around back of the Visitor Center) that are open every day from 9 am. And, if you have traveled to the island aboard a Steamship Authority vessel, there are bathrooms in their terminal on Steamboat Wharf. The airport (mid-island) also has bathrooms.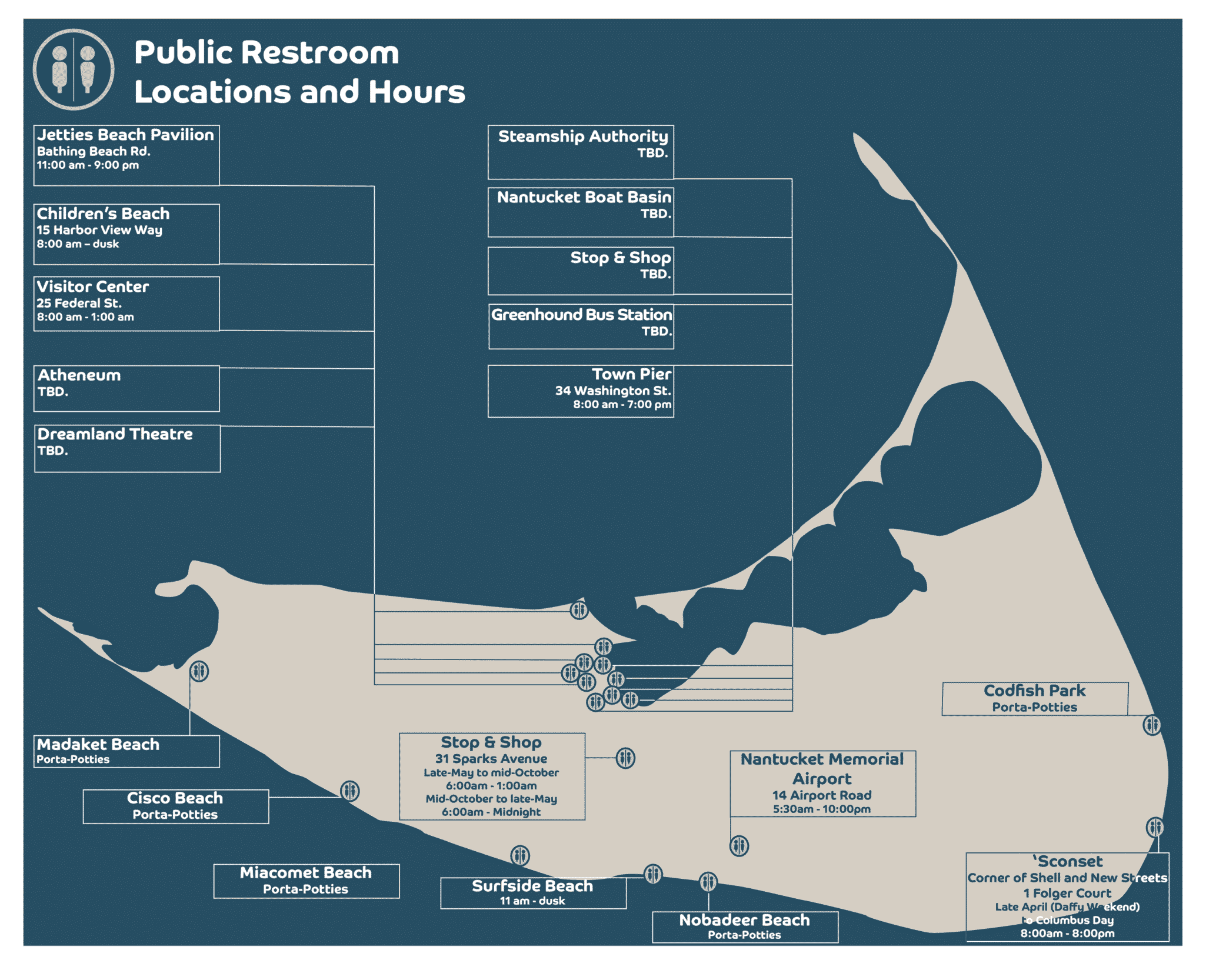 Yes, Nantucket Cottage Hospital is an affiliate of Massachusetts General Hospital and a member of Partners Healthcare.
Since 1911, Nantucket Cottage Hospital has cared for island residents and visitors with compassion and integrity. In February 2019, the new medical facility opened on-island. Our new hospital enhances access, safety and privacy for patients, allowing us to better serve the island community with a broad range of medical services. We are proud that Nantucket sets a national standard for small community hospitals by offering expanded outpatient services with capacity for inpatient care and surgery, giving patients a central location for all their healthcare needs, including primary, emergency, and specialty care, as well as diagnostic testing.
Camping is not permitted on Nantucket Island unless you are on private property with the permission of the homeowner or a member of the Scouts of America participating in an organized trip at Camp Richard.
Town bylaws state: No person shall, between the hours of 8:00 p.m. and 8:00 a.m., set up on any property, public or private, without permission of the owner thereof, a camp or tent or sleep in the open or in a vehicle within the territorial limits of the Town of Nantucket. Any person violating this chapter shall be punished by a fine of not more than $200 for each offense.