With our Insider's Guide to Nantucket 2020 Holiday Catalog you can find a variety of clothing, accessories, food, books, and gift cards that you can order and have shipped to your home in time for the holidays. Whether you are looking for stocking gifts, holiday party gifts, or presents for under the tree, there is something here for everyone on your list from your favorite shops on Nantucket Island. Check back frequently: new items are being added every week through the holidays.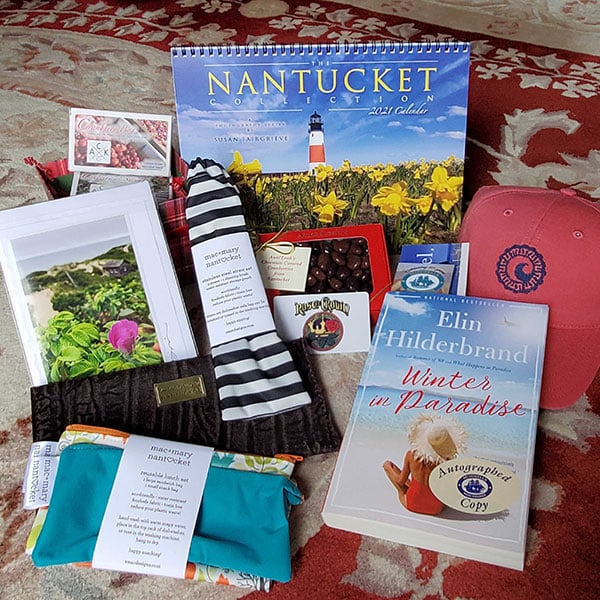 Contest is closed
Nantucket Insider's Guide Contest
The Insider's Guide to Nantucket: Nantucket.net is pleased to announce the winner of our HOLIDAY CONTEST is Ally Michelle Tamez of Huntsville, Alabama. 
 HAPPY HOLIDAYS and THANK YOU to all who entered. 
 Watch for our next contest after the holidays, and we hope to welcome you all to Nantucket in 2021.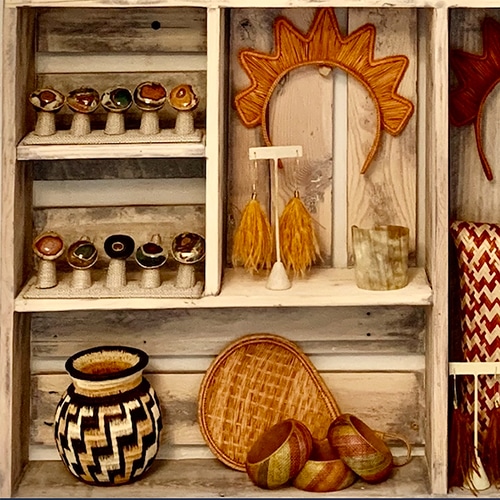 unique gifts
Land of Lulo
Explore land of lulo and find beautiful handcrafted treasures. Discover unique gifts that include head pieces, Amazonian shamans, werregue, tetera clutches, feather earrings, jasper/horn statement rings, mopa mopa bangles and so much more.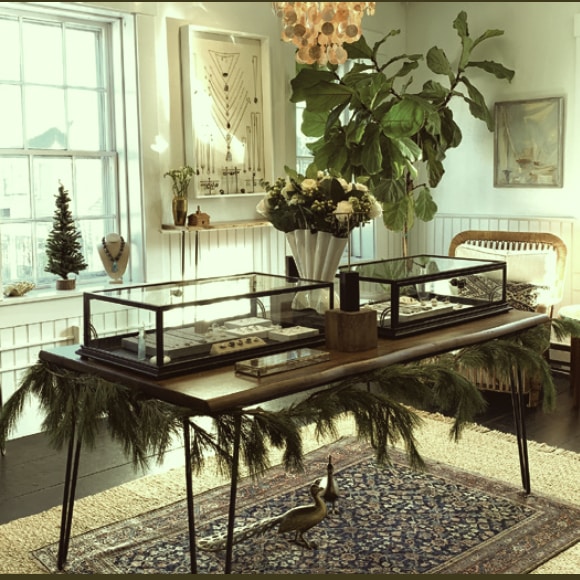 handcrafted jewelry
Jennifer Greenwood
We love the way Jennifer Greenwood's handcrafted jewelry combines contemporary style with classic looks. With natural materials and traditional techniques, you are sure to find the perfect piece for you or someone you love.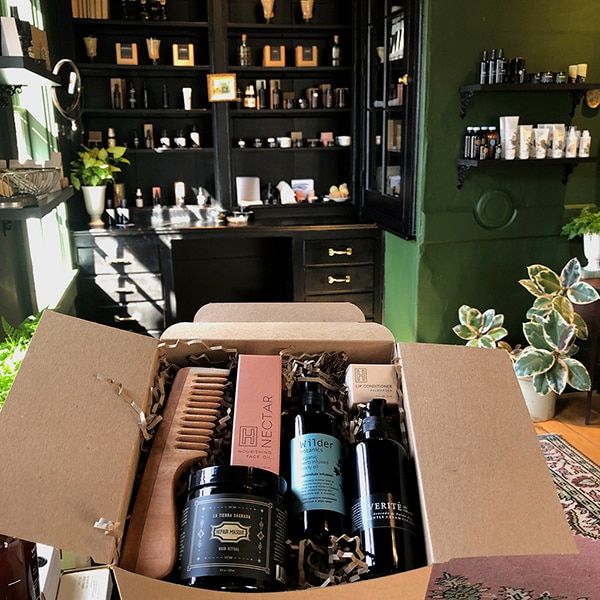 self-care items
Verdant Maiden
The Verdant Maiden is focused on providing a more holistic and sustainable option for the things we use every day. Shop a curated selection of self-care items that range from whole-body skin and hair care to nourishing wellness teas and tinctures. Gift options available. Shop online or in-store.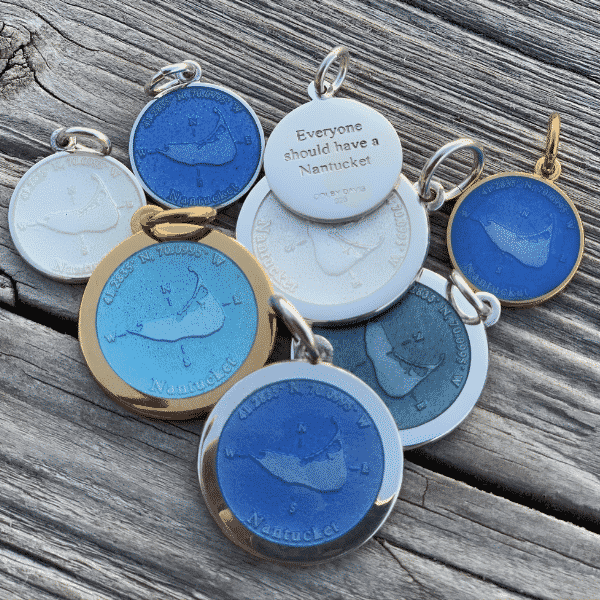 Blue Beetle Nantucket Charm
Blue Beetle
This popular store in the heart of downtown Nantucket features a wonderful selection of apparel, accessories and gift items. Our glass enamel Nantucket charm in multiple colors, set in gold or sterling silver. One size fits all and this is the perfect way to keep the island close to your heart.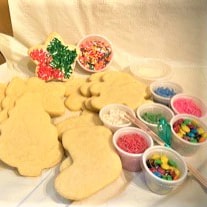 Holiday basket
Nantucket Cookie Company
This keepsake basket bulges with 2 sleeves of our fresh baked Nantucket Cranberry Oatmeal cookies, Bartholomew's Nantucket Island Spice, a bottle of our signature habanero hot sauce and a bottle of our jalapeno hot sauce. Decorated properly for Thanksgiving, Christmas or Hanukah!!
Deadline is December 19 for on-island hand delivery.
Nantucket Cookie Company has Holiday cookie decorating kits and more available for pick up by appointment, send us a message using  the contact form at the bottom of our home page and we will get right back to you.
Nantucket Photography Book
Mary Catherine Wade
This hardcover book filled with beautiful images of Nantucket, shot from air, land, and sea, is by photographer Mary Wade of Leap Year Images. It makes a wonderful gift for island lovers everywhere!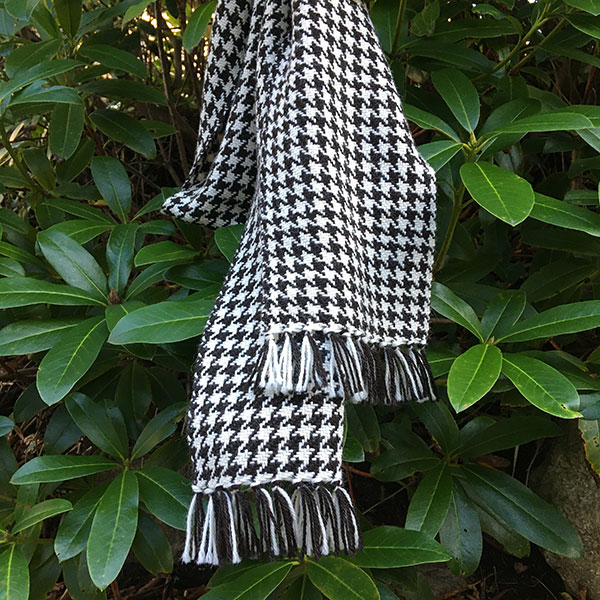 100% Houndstooth Scarf
Island Weaves
Wrap yourself in cozy warmth with this 100% alpaca houndstooth scarf, handwoven in our island weaving studio! Classic style and comfort makes this the perfect accessory or everyday go-to for men and women. Free shipping or island delivery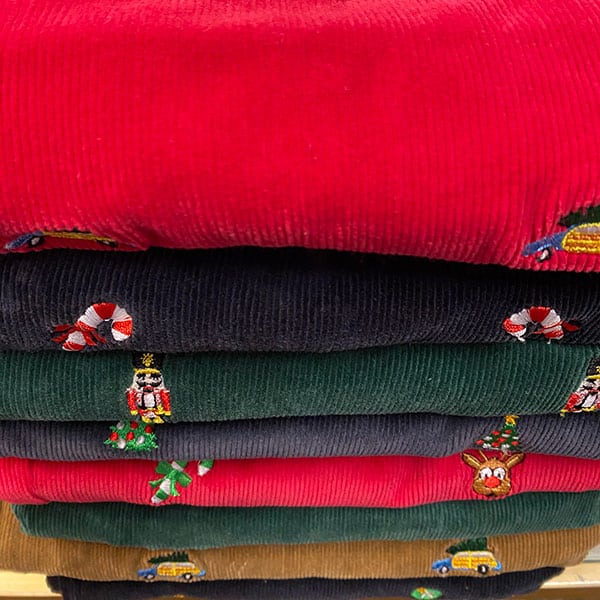 Castaway Pants
Murray's Toggery Shop
Embroidered holiday motif corduroy pants & skirts are at Murrary's Toggery Shop for men, women and children. Holiday party season is right around the corner! These best-selling critter pants will get you on every best-dressed list and keep the compliments & conversations flowing. All embroidered pants come in a 37" UF (unfinished) length hem and can be tailored to your desired length. Tailoring is available if you shop in store, but you can always order at nantucketreds.com. Make a statement this holiday season by wearing a pair of classic corduroys with a fun twist of an embroidered Santa, Snowman, or Christmas Tree!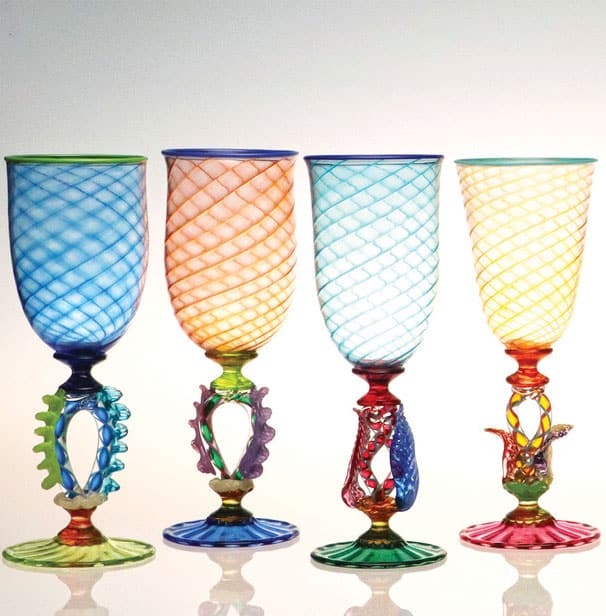 Fine Art Glassware
The Gallery at Four India Street
Enjoy your holiday toast with one-of-a-kind Wine Glasses, hand-blown by Robert Dane with whimsical theme stemware. Or enjoy your breakfast juices in one of Dane's tutti fruitti rock glasses. With every purchase now til X-Mass eve, you will receive red tickets & a C. Robert Perrin lithograph as a gift. All paintings in the gallery are 10% off. Email us for mail orders:
gallerynantucket@gmail.com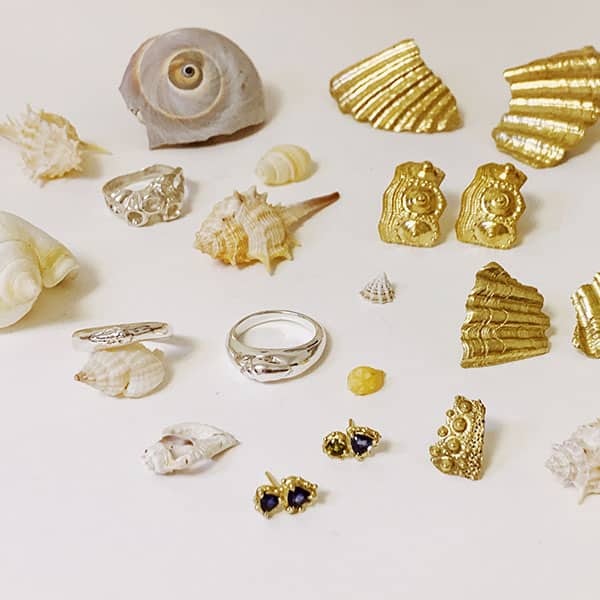 Jewelry
Icarus + Co.
Ocean Inspired Jewelry: keep a piece of Nantucket with you always. Explore our ocean inspired jewelry from one-of-a-kind necklaces and rings cast with Nantucket beach stones to earrings cast from Nantucket scallop shells and moon snail shells. Handcrafted jewelry to last a lifetime.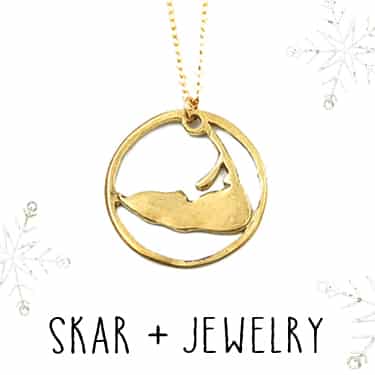 Jewelry
Skar Jewelry
Renee Scarfone Gillies handcrafted jewelry is made with love and sprinkled with Nantucket Magic. Created in the heart of the Nantucket Historic District, these special tokens will evoke memories of the island you adore every time you wear them.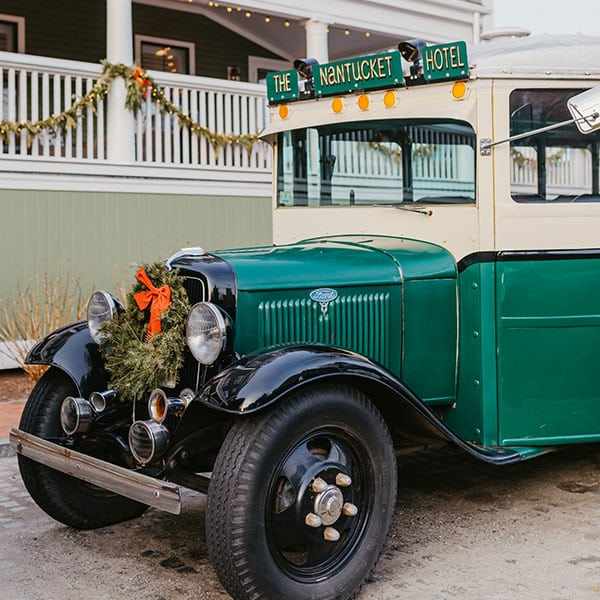 E-Gift Certificate
The Nantucket Hotel + Resort
Give the gift of future memories this holiday season with the purchase of an e-gift certificate to The Nantucket Hotel + Resort. Our gift certificates can be used to celebrate a special occasion at Breeze, for booking your next vacation at our properties on Martha's Vineyard and St. John, USVI., or for a little piece of the islands from any of our hotel gift shops. This gift is sure to make your loved one's eyes light up when they see it!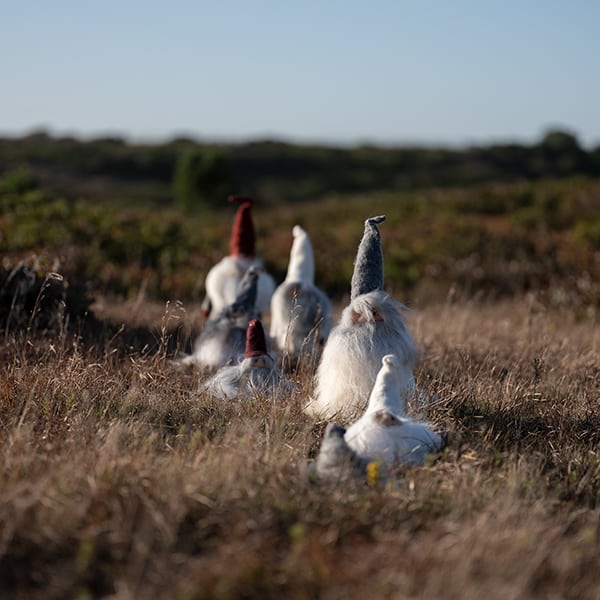 The Swedish Tomte
Eleish Van Breems
The Swedish Tomte are here! We are very excited to have our Swedish Tomte on the island for the holidays! Handmade using wool felt and native Swedish sheep skin for us by artisans in Dalarna, each Tomte is as unique as they are magical! The Tomte or Forest Gnomes are the folkloric protector spirits of the farms in the Swedish countryside and farmers would traditionally put out porridge and butter for them during Christmas Eve as an offering to ensure a good and prosperous year ahead. Today these beautiful versions of gnomes make a whimsical addition to any winter celebration.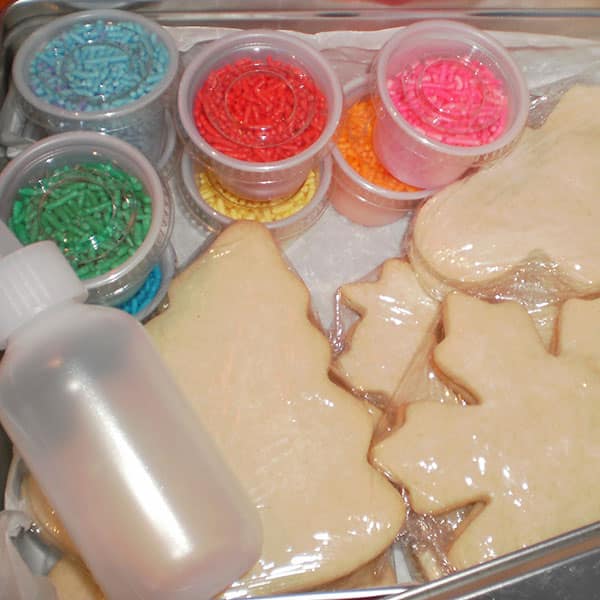 Cookies
Nantucket Cookie Company
Cookie decorating kits1 dozen fresh baked sugar cookies with sprinkles, candies, and frosting to decorate them. Available to decorate in house or to-go at Easy Street Cantina from Thanksgiving through Christmas. The kits makes great gifts and are available anytime and can be hand delivered on island or shipped anywhere in the US. Order at nantucketcookie.net: we decorate the box and include your personal message!
Deadline for Christmas delivery for our Cookie Decorating Kits & all our products is December 19 for on-island hand delivery.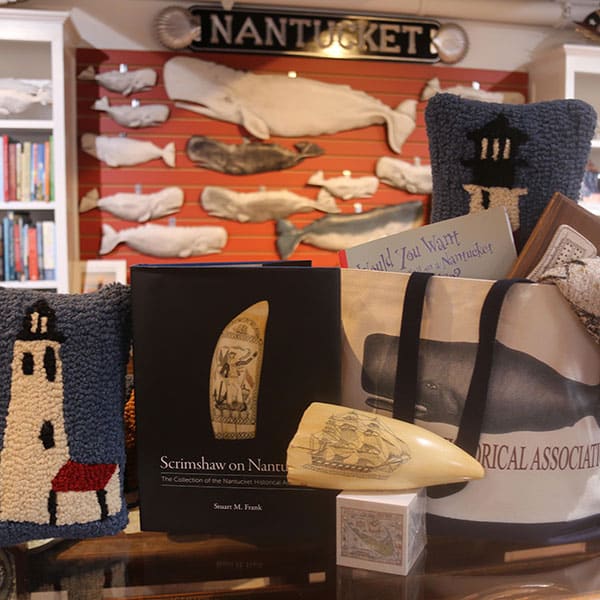 Gifts
Nantucket Historical Association
Support the Nantucket Historical Association and shop local at the Whaling Museum. Explore gifts reflecting the history, crafts, and natural beauty of Nantucket! NHA Members get discounts on all Museum Shop items.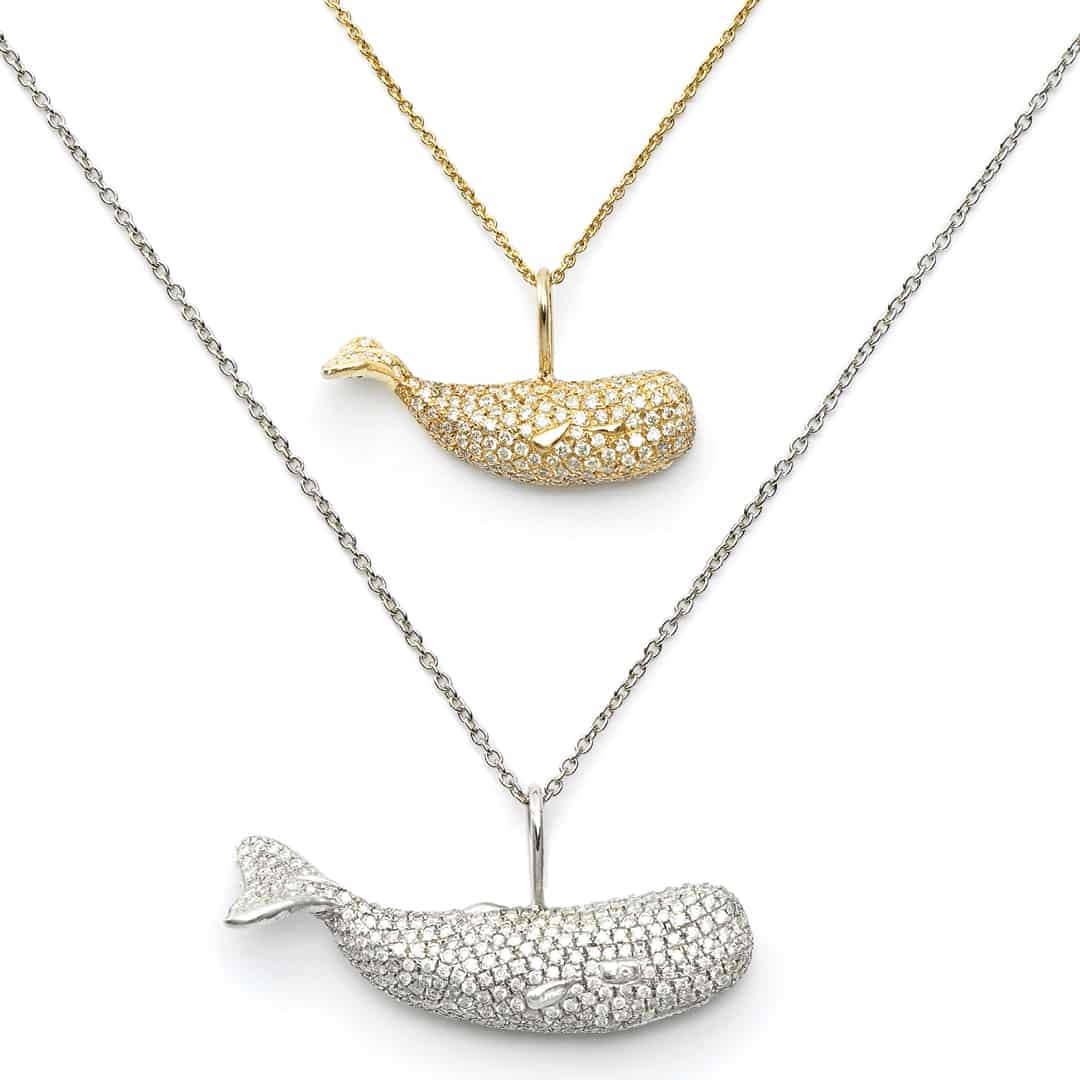 Magnificent Moby Collection™
Susan Lister Locke
Just in time for the Holidays!!—"MOBY IN DIAMONDS"™—The newest addition to our Magnificent Moby Collection™. Add some sparkle to your wardrobe whether it be casual or dressy—available in two sizes. Shine on Moby!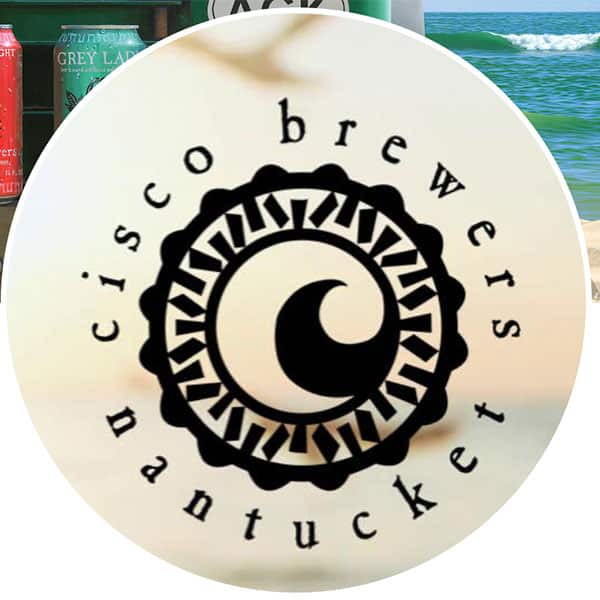 Cisco Ornament
Cisco Brewers
Toast the season! Put your Cisco Brewers memory in a stocking or under the tree with one of their t-shirts, ties, hats, masks, totes, or tumblers. They are even offering a Cisco Ornament to put on your tree this holiday season.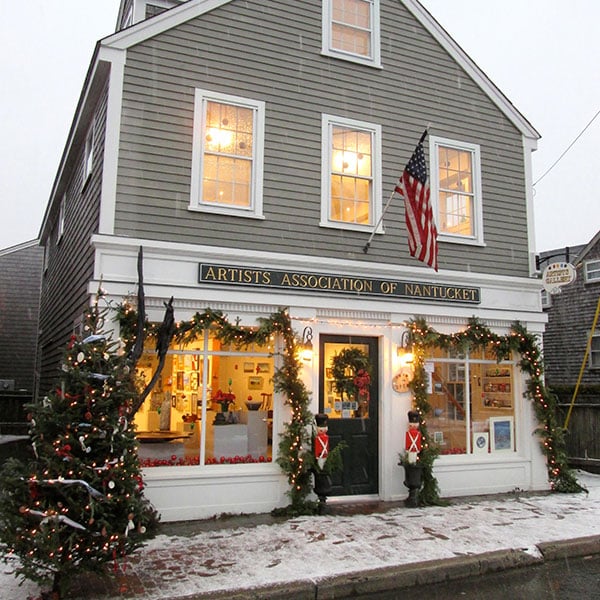 Art
Nantucket Artists Association
AAN offers online venues to purchase artworks from our shifting schedule of gallery shows, deaccessioned works from our Permanent Collection, original fine art prints and photographs, and a range of collectibles from our gift shop. Please browse from the collections below.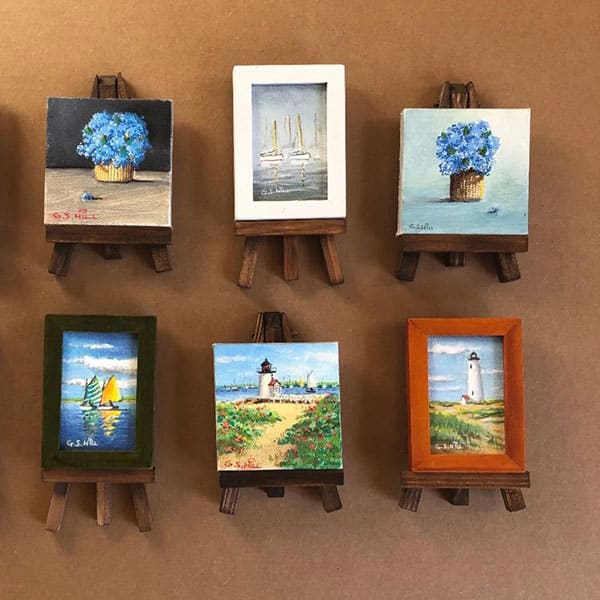 Miniature Oil Paintings
Original Art by G.S. Hill
Miniature Oil Paintings by Nantucket Artist G.S. Hill make Stocking Stuffers that will be treasured! They are available in 3 different canvas sizes: 3x3 or 2x4 or 2x3, attached to a wooden easel. They are just $175 each, and shipping is free. Call or email to order:
508-228-1353
or
gshillnantucket@gmail.com
. More original art, prints, and Nantucket gifts.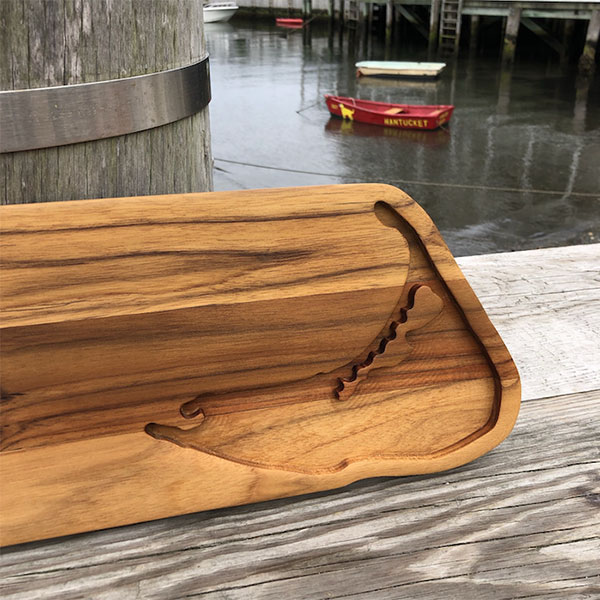 Nantucket Island Charcuterie Board
ACK 4170
Our NEW Nantucket Island teak charcuterie board is absolutely gorgeous! This board measures 7.5" high by 23.5" wide by 1" thick. The island shape is carved into this board, making it ideal for nuts, olives, etc. Handcrafted with love. The perfect holiday gift for the lover of Nantucket. Visit our shop for gifts created by small makers and artists in downtown Nantucket on Easy Street or shop online
ACK4170.com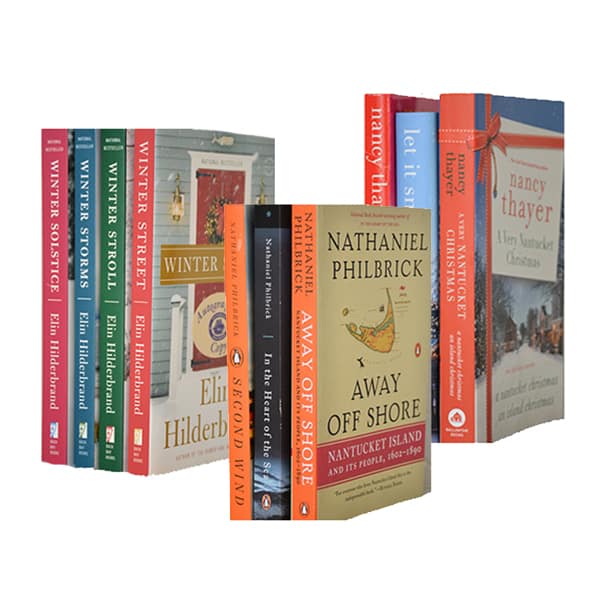 Books
Nantucket Book Partners
Autographed Book Sets by your favorites authors like Elin Hilderbrand, Nathaniel Philbrick, Nancy Thayer, and more. These sets feature three books signed by an author and includes a special and exclusive bookmark all wrapped up with holiday cheer. Happy Reading!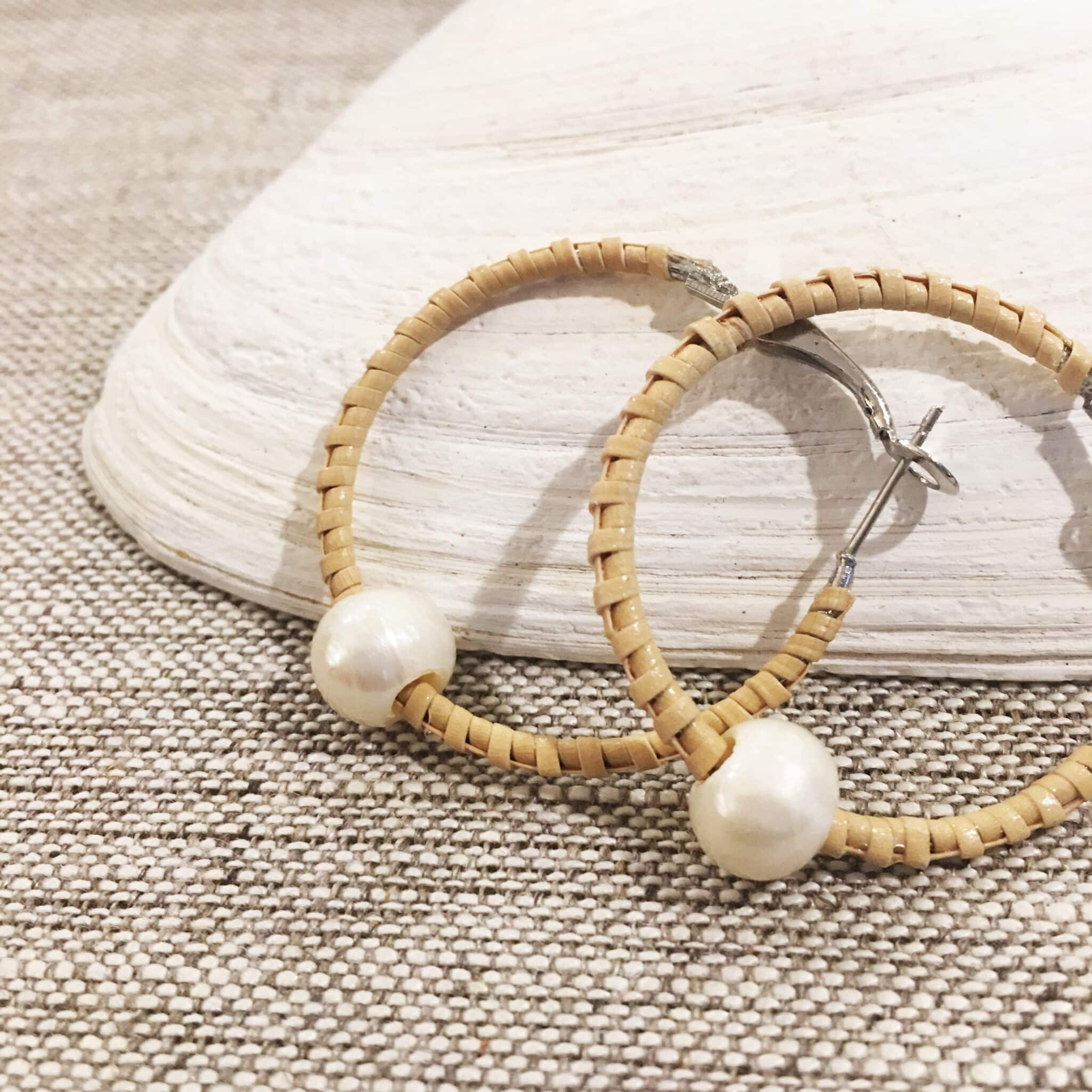 Nantucket Basket Woven Earrings
ACK 4170
These Nantucket Basket Woven Earrings are handcrafted by island weaver Ashlie Emery. These meticulously-woven earrings are adorned with freshwater pearls. These hoops come with two sets of pearls: white and grey—they are interchangeable! We also carry basket woven necklaces and bracelets.
ACK4170.com
or stop by the store!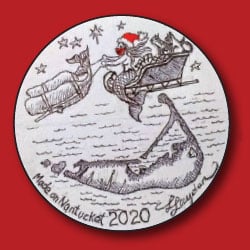 Made on Nantucket ornament
Made on Nantucket
Now's the time to order your 2020 Nantucket Ornament from Made on Nantucket. The latest in a collection of annual ornaments, each comes with a gift box for holiday giving. Visit their website to place your order.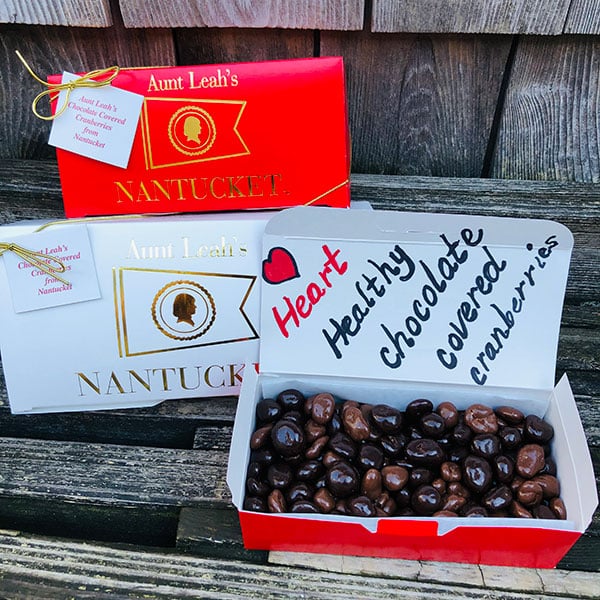 Chocolate Covered Cranberries
Aunt Leah's Fudge
Did you know that your favorite Nantucket fudge shop also sells scrumptious Chocolate Covered Cranberries? They are available in both milk and dark chocolate (and mixed)! The heart-healthy cranberries make unique hostess and holiday gifts. The chocolate-covered cranberries can be ordered online at
auntleahs.com
or can call in your order to
508-228-1017.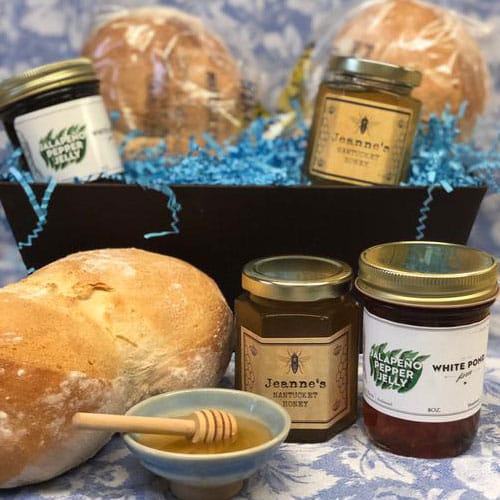 Gift Baskets
Nantucket Bake Shop
Nantucket Bake Shop has been baking and shipping gifts nationwide for more than 35 years. We bake authentic Portuguese Bread, Almond Macaroons, Cranberry Granola & much more. Order online soon for the holidays. Gift baskets available. When on-island, stop in at 17 1/2 Old South Rd for a taste of island goodness!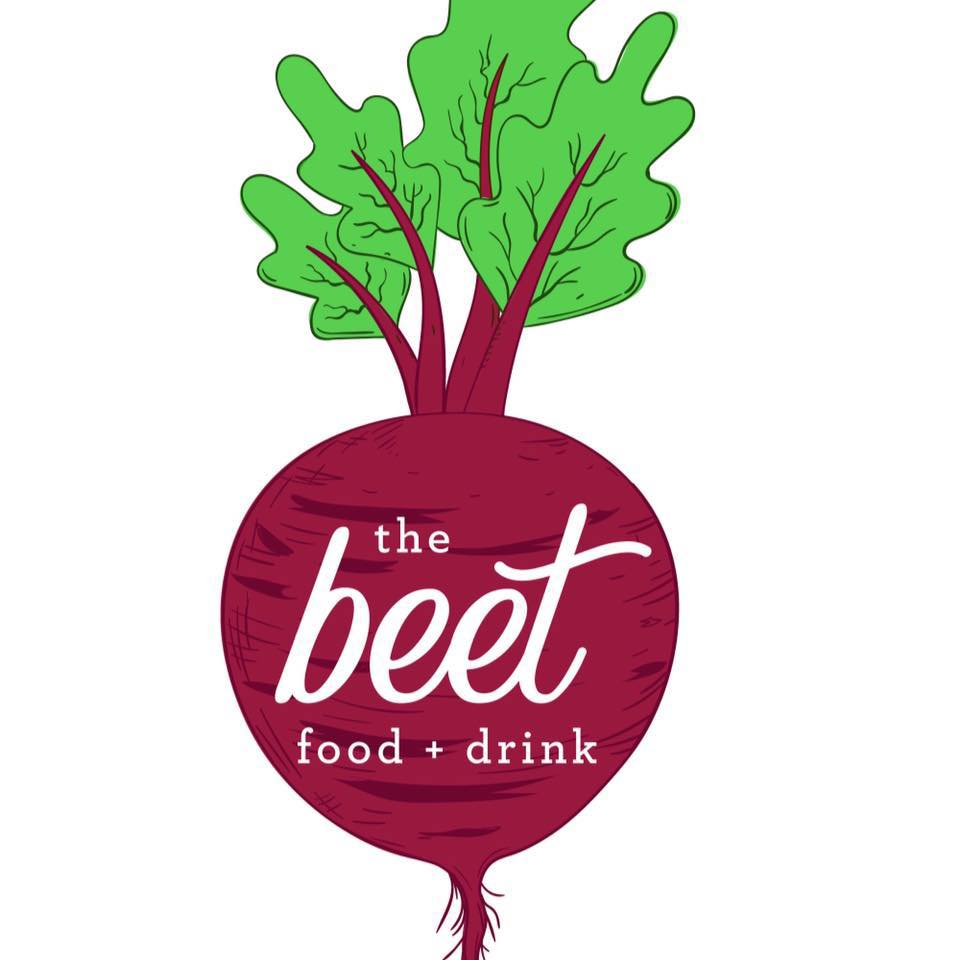 Gift Cards
The Beet
The Beet features food for everyone! From healthy salads, warm grain bowls + soups to chicken burgers, steak frites + beignets! Wine, beer + sake available dine in or take out! Gift cards to this island eatery make great stocking gifts and staff perks. You can Eat.Beet.Repeat. year-round!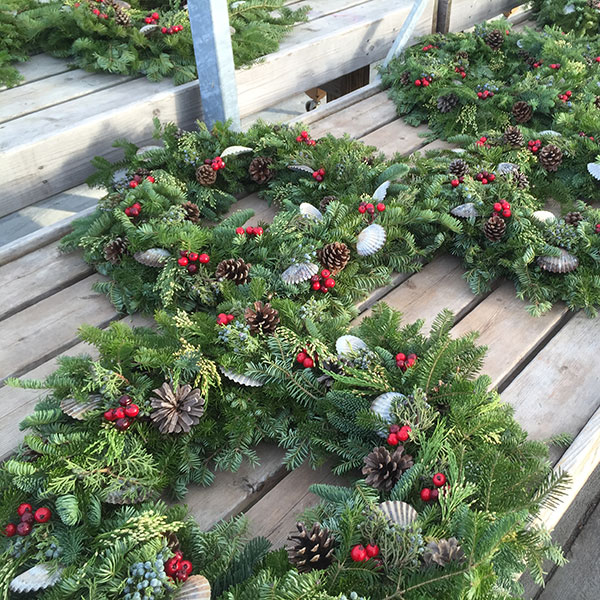 Nantucket Wreaths
Bartlett's Farm
Ship a Nantucket Wreath to friends and family this season! Our Balsam Fir wreaths are hand-decorated with Nantucket Bay Scallop Shells, natural pine cones, red cranberries & a red velvet bow. Order Online and choose your ship date at bartlettsfarm.com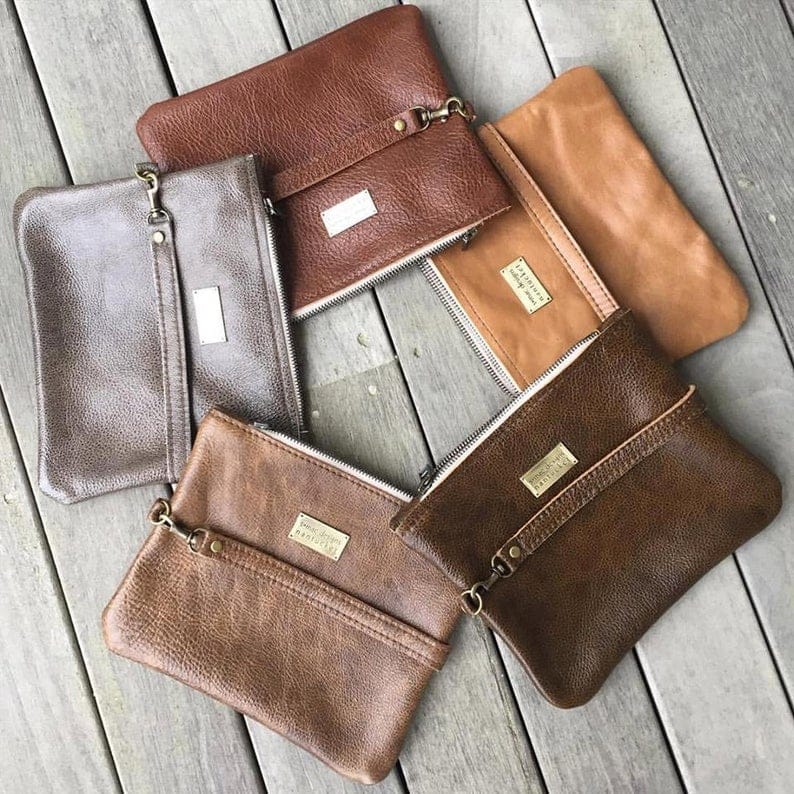 Leather Convertible Bag
s•mac designs
Handcrafted with love...30 miles out to sea. Clutch handbags, tote bags, eyeglass cases, wine gift bags, and comfy infinity scarves in fun florals, vintage fabrics, and retro prints.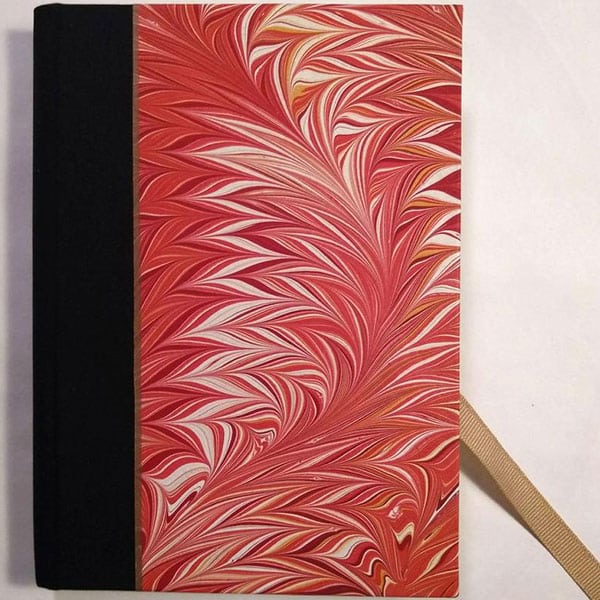 Hand Marbled Paper on a Hand Bound Journal - Flame Pattern
Miki Lovett
Miki works in monoprint, etching, and marbling. With an MFA from Boston University, Miki began working in weaving and now works with paper and silk marbling as well as printmaking. Over the last few years she has concentrated on Solar Plate Etching and Monoprint.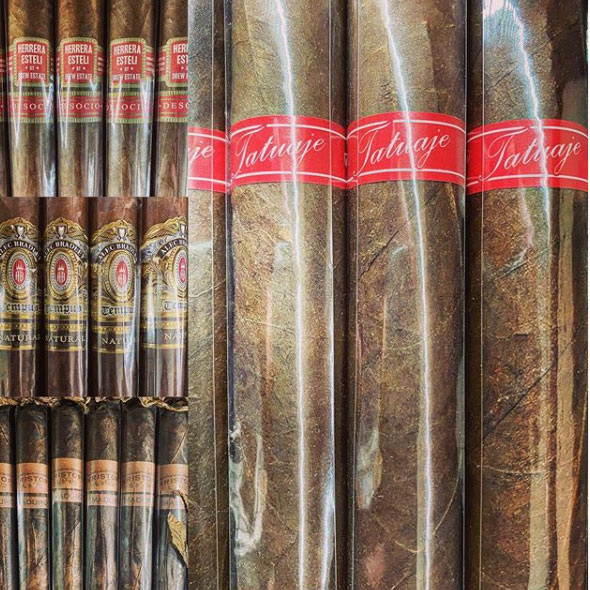 Premium Cigars
Gray Lady Smoke Shop
Your island destination for the largest selection of fine cigars, handmade accessories, and quality glassware for cannabis. We're here to meet your needs, whether you're looking for the perfect accompaniment for walk around town or a gift for friends and family. Stop by the shop upstairs at 2 Union Street, just a few steps off Main Street behind the Ralph Lauren store.