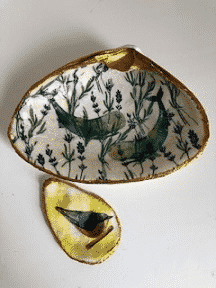 Teen Take-and-Make Kits -Shell Trinket Dishes
Come to the Atheneum lobby to pick up your Teen Take-and-Make kit!
You've seen these at Anthropology and on Pinterest, but do you know how easy they are to make them yourself? You don't need to be a painter to get beautiful results.
Your kit includes various shells, gloss Modpodge, gold paint, and the secret material-decorative paper napkins!
These make a nice gift, and can be hung up with some hot glue and string, too.
FREE for teens in grades 6-12
while supplies last