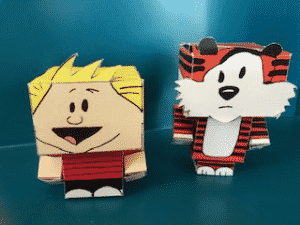 Teen Take-and-Make Kits – Calvin and Hobbes Cubees
Come to the Atheneum lobby to pick up your Teen Take-and-Make kit!
With some careful cutting and folding, you can make these Calvin and Hobbes Cubeecrafts.
Sit them on a shelf or your desk to remind you of the potential of your imagination, and the value of a faithful tiger.
FREE for teens in grades 6-12
while supplies last