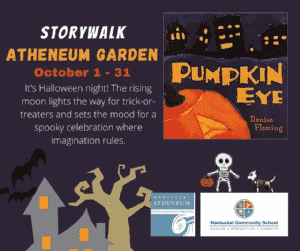 StoryWalk – Pumpkin Eye
Come take a stroll through our new StoryWalk. This month's featured book is Pumpkin Eye, written and illustrated by Denise Fleming. A Halloween story with just the right amount of spookiness for preschoolers. It's Halloween night! The rising moon lights the way for trick-or-treaters and sets the mood for a spooky celebration where imagination rules. Award-winning author/artist Denise Fleming turns her talents to every child's favorite holiday.
These StoryWalks are a collaborative effort between the Nantucket Atheneum and the Nantucket Community School.