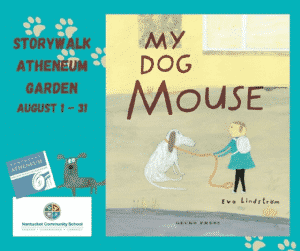 StoryWalk: My Dog Mouse
Come take a stroll through our new StoryWalk! My Dog Mouse, by Ava Lindstrom,
offers friendship, humor, and gentle heartache in one dog walk. This is a book for anyone who knows what it is to love an old, slow dog, with ears as thin as pancakes.
These garden StoryWalks are a collaborative effort of the Nantucket Atheneum and the Nantucket Community School.