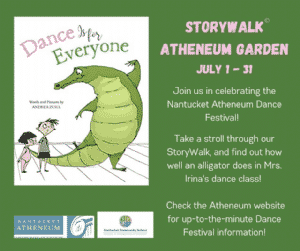 StoryWalk©: Dance is for Everyone
Help us celebrate the Dance Festival by taking a stroll through our StoryWalk! Dance is for Everyone by Andrea Zuill is a sweet and funny celebration of inclusiveness and dedication to dance.
Our garden StoryWalks are a collaborative effort between The Nantucket Community School and the Weezie Library for Children. Thank you to the Nantucket Golf Club Foundation for the funds that make these StoryWalks possible.