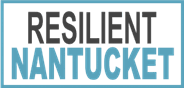 Resilient Nantucket: Designed for Adaptation Forum
Planned for April 22 (Earth Day) through April 24, this public forum showcases resilience planning and cultural resource protection efforts in Europe and the United States as best practices for adapting historic communities to the impacts of our world's changing climate.
Nantucket is a National Historic Landmark community with an increasing vulnerability to the impacts of climate change, sea-level rise, and coastal erosion.
This virtual gathering is not just for residents and visitors to Nantucket, but for those nationwide working on resilience planning for historic and natural resources impacted by flooding disasters, extreme storms and coastal erosion. It will be a virtual conference using both a Zoom and an online broadcast platform, both of which allow for individual and panel presentations, audience question and answer and simulcasting on YouTube and other live streaming formats.
Subject-matter experts working in the fields of climate science, engineering, oceanography, resilience planning, historic preservation, economics, flood mitigation, community engagement, natural resource protection, land conservation, communications, climate justice and public policy.
Three keynote presentations (Phil Dyke – National Trust UK; Brenda Ekwurzel – Union of Concerned Scientists and John Englander – Sea Level Rise Institute) and a moderated discussion on Public Policy for Climate Change and Coastal Resilience. This panel interview is moderated by Doug Parsons with America Adapts & Cimpatico Broadcasting.  The focus is on policies for climate change mitigation and adaptation at the local, state and federal level.  Climate Change, Sustainability and Resilience experts, policymakers and advocates will gather to discuss the current landscape of America's climate change public policy and what national, state and local leaders are and can be doing to enhance local efforts toward climate adaptation and mitigation.