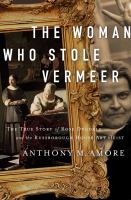 Online Author Talk: Anthony Amore, The Woman Who Stole Vermeer
Anthony Amore is 
he extraordinary life and crimes of heiress-turned-revolutionary Rose Dugdale, who in 1974 became the only woman to pull off a major art heist.
Dugdale's life is singularly notorious. Born into extreme wealth, she abandoned her life as an Oxford-trained PhD and heiress to join the cause of Irish Republicanism. In 1974, she led a gang into the opulent Russborough House in Ireland and made off with millions in prized paintings.
The presentation is free admission, but registration is required. Please sign up online.