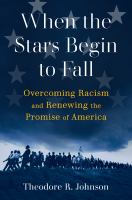 Geschke Lecture Series: Theodore R. Johnson, How To Build A Multi-Racial National Solidarity
Theodore R. Johnson begins his book 
When The Stars Begin To Fall: Overcoming Racism And Renewing The Promise of America 
(Atlantic Monthly Press, June 2021) by stating, '
Racism is an existential threat to America."
Join us for a virtual conversation centered around the central theme of Johnson's passionate literary debut – that the best way to counter systemic racism is through political action steeped in 'civil religion' or a belief in the power of American ideals over differences in race, class, and ethnicity. Johnson sits down with Awista Ayub, director of the fellows program at Washington-based 
New America
 where Johnson wrote much of the book as an Eric & Wendy Schmidt Fellow.
In When The Stars Begin To Fall, Johnson weaves together personal narrative with examples in American history that demonstrate how, when the country's founders chose not to address disagreements over slavery, they set the stage for national traumas that continue to this day.
Johnson is a former U.S. Navy commander and currently serves as a Senior Fellow at the Brennan Center for Justice at NYU School of Law where he researches race, politics, and American identity. Awista Ayub is the author of the Kabul Girls Soccer Club (Hyperion 2010). Prior to joining New America, Awista lived in India where she worked on programs with Seeds of Peace.
The lecture is free admission, but registration is required. Please 
sign up online.