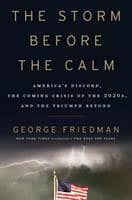 Geschke Lecture Series: George Friedman, The Storm Before The Calm
George Friedman is a U.S. geopolitical forecaster and best-selling author. He is the founder and chairman of Geopolitical Futures, an online publication that analyzes and forecasts the course of global events.
Friedman's new book The Storm Before The Calm takes a hard look at the United States and Friedman says American history must be viewed in cycles – an 80 year 'institutional cycle' (such as: the Revolutionary War, the Civil War, and World War II) and a 50-year 'socio-economic cycle' (such as how baby boomers impacted the middle class).
These two major cycles will converge in the late 2020s and Friedman predicts many foundations of American society will change. But ultimately these changes bring the country increased strength, stability, and power in the world.
Established in 2005, the Geschke Lecture Series features speakers who inform and challenge our audiences with current critical ideas and issues. The program is free admission. But registration is required. Please
sign up online
.