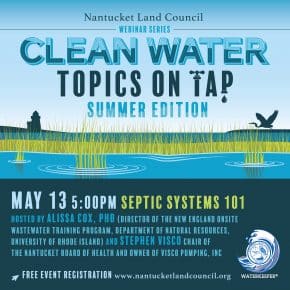 Free Webinar: Clean Water Topics on Tap
Join us for an introduction to Nantucket's Sandbar sharks, their biology, behavior and the logistics of tracking one of Nantucket's top marine predators. Caroline Collatos, a shark biologist and PhD student at the New England Aquarium will be presenting her local research project titled"  Investigating presence and habitat use of Sandbar sharks (Carcharhinus plumbeus) around Nantucket, MA,". Register HERE.
Hosted by Caroline Collatos, Sandbar Shark Researcher and RJ Turcotte, Nantucket Waterkeeper, Nantucket Land Council.