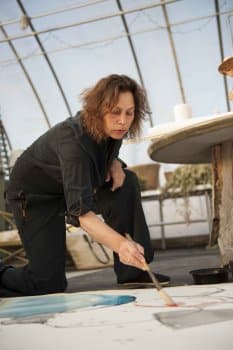 Food for Thought: Like Sea Glass: A Hand Full of Light, from the Whaling Museum to Moby Dick with MJ Levy Dickson
Long-time Nantucket resident M.J. Levy Dickson explores global interconnectedness through her artwork, and has discovered a deep affinity with the natural world. In nature, she finds patterns of color, light, mood, subject, texture, and sound that transcend the traditional boundaries, such as, those between sight and sound, land and water, or time and space. Her tenures as artist-in-residence in Tangier, the Perkins School for the Blind outside of Boston, and The Farm in Jaipur, India, among other places, inspired her to see the similarities of all global cultures, as she celebrates their differences.
This webinar will not be recorded; please tune in live.