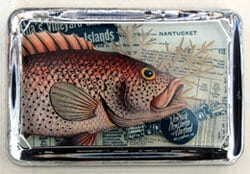 Collage Paperweights with Mary Emery Lacoursiere
Paperweights have been a standard on desks for ages. Not only are they useful but they add a bit of whimsy, capturing keepsakes and small treasures in a perfect package.  They make the perfect gift or memento to mark a special occasion or milestone.
Make a pair of paperweights using historic papers, photos, and memorabilia from the NHA archives.  Bring your own images and photos to make your truly unique.
Its  time to get out of the house and create together safely.  Class will be held in the Discovery Center at the Whaling Museum.  Wearing a mask and safely distanced we will be while we have a bit of joy at the same time.
Includes all materials.