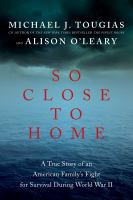 Author Talk: Michael Tougias, U Boats So Close To Home
Michael J. Tougias, New York Times bestselling author and co-author of 24 books, offers a dramatic presentation based on his co-authored book So Close to Home (Pegasus Books, May 2016).
Using images of of the attack, the survivors, and their rescue, Tougias tells the dramatic story of the Downs family, who were civilian passengers on the freighter Heredia when it was sunk by a German submarine in 1942 off the coast of New Orleans. More than half the 62 crew and passengers aboard perished when two torpedoes blew the vessel into pieces, but incredibly, after 15 hours in the ocean – facing sharks, hypothermia, drowning, and dehydration"all of the Downs family survived and were reunited.
Tougias tells the story from both the Downs family's point of view and from the perspective of the German submarine captain. So Close To Home is a survival story and history book rolled into one.
The Program is free admission, but registration is required.