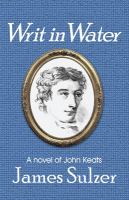 Author Talk, Jim Sulzer, Writ In Water, A Novel Of John Keats
Beloved British poet John Keats died in 1821 at age 25. What was his life really like? Did he find love? What experiences led to his great poetry? Nantucket writer Jim Sulzer gives us a captivating novel that re-imagines Keats at the moment of death as he undergoes a series of heart-wrenching trials that offer answers to these questions.
In Writ In Water, Keats has died and finds himself in a 'way station' somewhere above Rome, where he spent the last months of his life. Alongside him is a mysterious spirit who seems to wish to communicate with him but is unable to speak. While he waits, Keats receives short, dramatic visits from spirits out of his past and also revisits memories from his life. Along the way he undergoes three judgments from the universe on his relations with his siblings, with his peers, and finally on his life and accomplishments in sum.
Join us for a fascinating look at the life of John Keats.
Free admission.